---
---
Brotherhood

Follow My Vote believes that all viewpoints can come together to participate in bettering our society.

Honor

Follow My Vote is committed to developing transparent voting solutions with the highest level of integrity.

Leadership

Follow My Vote is a leader in harnessing emerging blockchain technology to power our voting system. 

Sacrifice

The Follow My Vote team hopes to restore faith in the democratic process and is willing to do whatever it takes.

Service

Follow My Vote gives back to Blacksburg by hiring Hokies and participating in local events.

Loyalty

Follow My Vote's voting system puts faith in the voice of the people and strives to meet the needs of voters.

Duty

Follow My Vote believes it is our duty to the people to help facilitate a revitalization of the democratic process.

Ut Prosim

Follow My Vote is committed to serving the American electorate by improving election transparency.
---
Join Our List Of Supporters!
---
---
Blacksburg Startup – Founded By Hokies – Is Changing The Game!
Why?
At Follow My Vote, we envision the world as a thriving democracy where citizens use the latest technology to regularly engage with their government in a way that allows each citizen to ensure that their voice was heard. Yet, the reality is that civic engagement is one of the last areas of our society nearly untouched by technology. If we are willing to embrace technology, "We the People" in democratic societies throughout the world, can bring this vision to life.fffffffffffffffffffffffffffffffffffffffffffffffffffffff
Learn More!
How?
Follow My Vote's voting system has a transparent ballot box that leverages blockchain technology, a cutting-edge technology introduced to the world in 2009. Since then, blockchain technology has been recognized worldwide as most secure database management technology available on the market. Once a vote is signed by the software using elliptic curve cryptography, it is safely stored in our blockchain-based ballot box, at which point the vote is irreversible and cannot be changed.
Learn More!
What?
Using Follow My Vote's secure online voting system, an engaged citizen would never have to wonder whether or not their voice was heard. Unlike the black boxes elections are hosted in today, our transparent ballot box allows each voter to follow their vote into the ballot box to confirm that their ballot was cast as they intended. Voters can also audit the results of the entire election is they wish. In other words, the design of our online voting system would allow for transparent elections!
Learn More!
What The World Is Saying About Our Technology…
Telegraph.co.uk

"Bitcoin is giving banks a run for their money. Now the same technology threatens to eradicate social networks, stock markets, even national governments."

– Matthew Sparkes

TechCrunch.com

"The "blockchain" — the engine on which Bitcoin is built — is a new kind of distributed consensus system that allows transactions, or other data, to be securely stored and verified without any centralized authority at all."

– Jon Evans

BBC.com

"With blockchain technology, you could create a truly tamper-proof record system… records can go into the Blockchain in a way that I know if anybody tries to change it."

– Peter Kirby
---
How Virginia Tech Is Responding…
DSP Partners With FMV!
"As President of Delta Sigma Pi at Virginia Tech, I think I can speak for my fellow brothers when I say that Follow My Vote's voting system is truly revolutionary and embodies Virginia Tech's dedication to innovation. We are excited to test the system this semester by incorporating it into chapter meetings and hope it can soon be used for our elections process."
– Anthony Puffenbarger, DSP President
---
---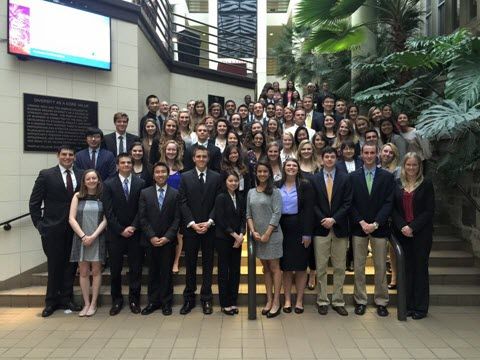 Calling All Student Organizations!
Fraternities of all kinds, sororities of all kinds, clubs, sports teams, student government, and just about any group on campus — we're talking to you! Our platform can be used for a variety of voting circumstances. If you think that your organization could benefit from this time-saving solution, or you just want to find out more, do not hesitate to reach out!
Contact Us!
---
5 Reasons Why Hokies Should Petition The Student Government Association At Virginia Tech To Use Follow My Vote's Voting System:
Virginia Tech strives to be on the cutting edge of new technologies and innovation. All Virginia Tech students will get a chance to use a revolutionary new technology that will change the world. This is a chance to show the world that Hokies really do invent the future.
Voter turnout is an issue. Through research and customer discovery we found that current students are generally unaware of the SGA at Virginia Tech, SGA elections, and the responsibilities of the SGA. We are confident that using our system will generate lots of excitement and set the campus abuzz, which will undoubtedly increase voter turnout for the SGA election.
Currently the faculty tallies and reports results. Candidates and students must trust that the results they are provided with are truly accurate. With our system, students will be able to view candidate profiles, vote online, and view results in real-time, all while gaining total transparency into the election results.
With a higher voter turnout, the faculty can be assured that the SGA at Virginia Tech more accurately represents the student body. SGA candidates may then be more motivated to campaign for real decision making opportunities, meaning the students may end up having a real say in the decisions made and things that take place at Virginia Tech.
Doing so would be a win for Virginia Tech students, a win for the SGA, a win for Virginia Tech, a win for Blacksburg, and a win for Follow My Vote – a tech startup founded by Virginia Tech alumni that is located at the Virginia Tech Corporate Research Center in Blacksburg, VA.
---