Recap: The Best TechDay Yet
DC TechDay continues to be a great event in the Washington, D.C. area for startups. Our second year in attendance did not disappoint. We enjoyed our time thoroughly and walked away having made great connections.
We met several high profile members of government including Congressman Mark Takai from Hawaii and a member of the Secretary's Office for Global Partnerships. Here we are talking with Congressman Takai.
Conversation at DC TechDay 2015 was excellent. Attendees were excited about what we are doing, which translated into significant growth of our supporters list. We usually encounter people that are skeptical about our security and are convinced that online voting can not be done securely. This is due to their lack of knowledge concerning blockchain technology. TechDay 2015 turned out to be full of accepting and supportive attendees and very few haters. We actually had people tell us that they waited in voting lines for two hours during the last presidential election, so you can imagine their excitement upon hearing about end-to-end verifiable online voting software. Convenient voting is finally here.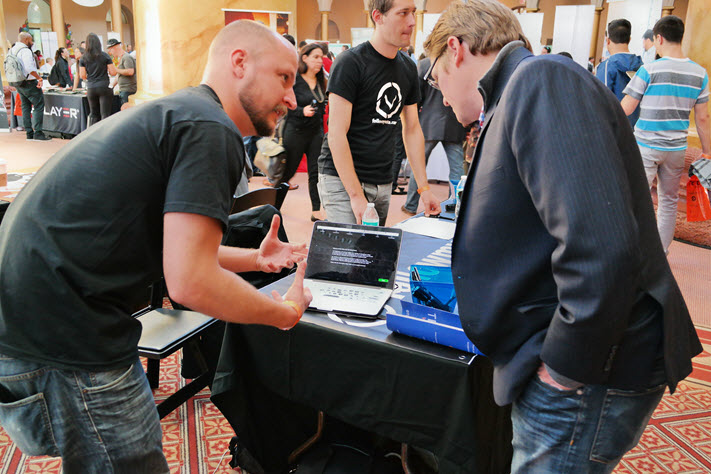 Some other notable people that we talked to were from the Silicon Valley Bank and members from Brigade. Brigade is an app that lets you express your ideas on certain issues and legislation. You then compare your stance with your friends.
Our recruiting efforts were also successful at TechDay. We had attention from major universities, such as Georgetown and Johns Hopkins, whom want us to start recruiting their students. By the end of the day, we had a pile of resumes from people interested in career opportunities at Follow My Vote. Recruiting companies also took an interest in our business and will be competing to find us top talent because they see our potential for growth and success.
On another high note, we talked with members from the accessibility community that offered to serve as beta testers to ensure our voting system meets certain elements that are critical for disabled citizens. This is an area that we take very seriously and feel strongly about. Disabled voters must not be disenfranchised.
As far as press goes, we talked with several types of publications. Watch out! We should have some press news to share soon.
Check out our Facebook album for more pictures!
Thanks to everyone, especially the folks at DC TechDay for putting on a great event!
About the author: Will Long is the Marketing Manager of Follow My Vote.
[contentblock id=blog-subscribers]