Follow My Vote attended Collision Conference this year in New Orleans over April 26-28. The tech conference provides startups with the ability to network, meet investors, and debut their products and apps.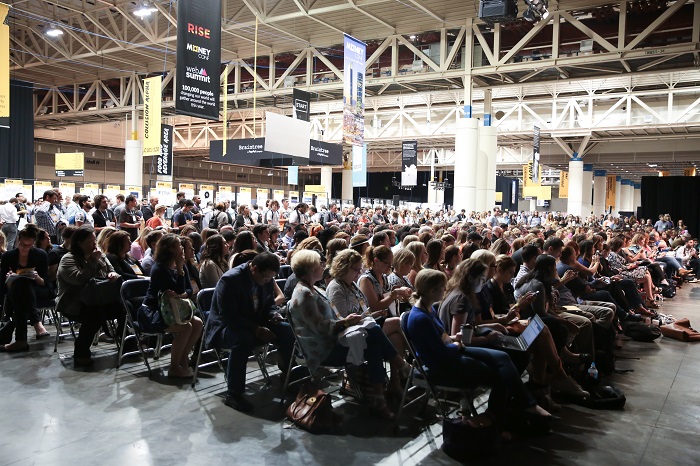 Follow My Vote was admitted to the Alpha Program. This program allowed us to exhibit and tell attendees about our blockchain voting software and explain why end to end verifiability is so important for honest voting.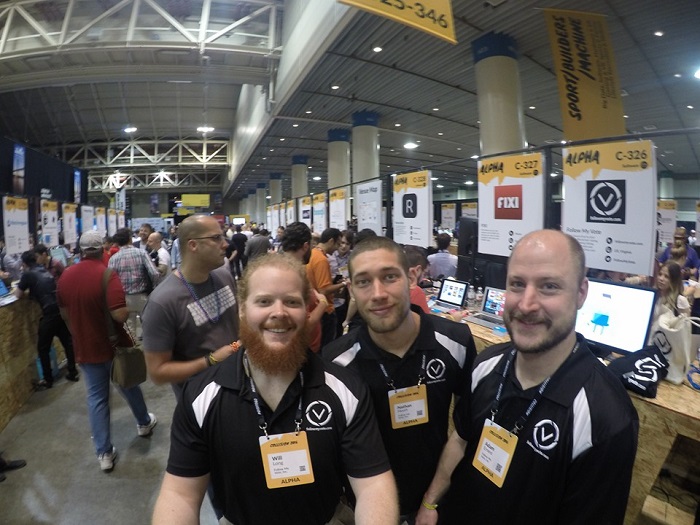 News of our parallel election was a big hit. People loved the idea of being able to take part in a mock election and experience voting via a smart phone or a device of their choice. Our crowdfunding campaign was also received well. We experienced an influx of backers while at the conference!
See The Crowdfunding Campaign Now!
Conferences of all types are full of people trying to get your attention. This ultimately led to us buying a sumo wrestler suit to hand out stickers for the parallel election. PEOPLE LOVED IT! Attendees put pictures of the suit all over twitter.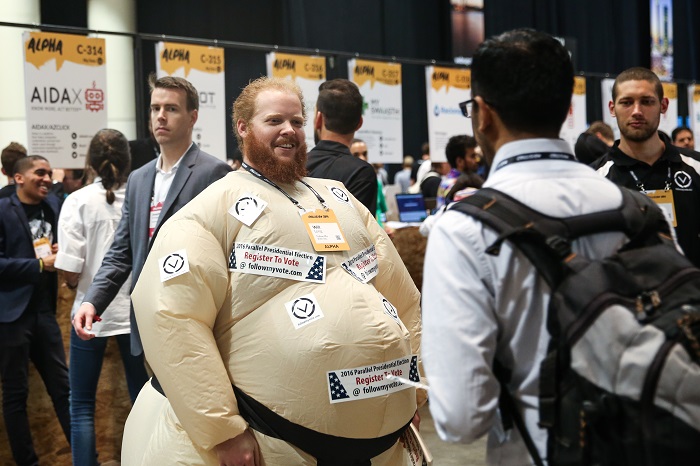 The speakers at Collision were phenomenal. We heard from thought leaders such as Robert Scoble, who interviewed us in our office and published it live to Facebook. Alex Chung of Giphy had a super popular speech on GIFs. One of our favorite speeches was on open source projects delivered by Gautam Rege, Co-founder of Josh Software.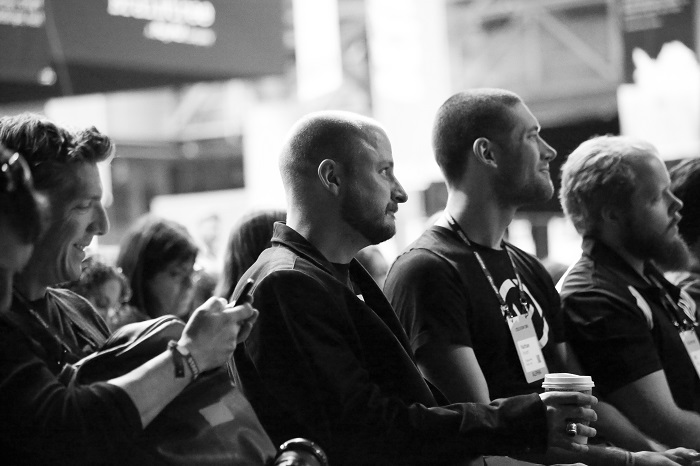 To see all the photos from the conference visit our Facebook Album! Feel free to tag your your company!
In total there were 630 startups that attended the conference to meet investors and gain exposure for their products. We have created a short synopsis of Collision startups who were a pleasure to meet and network with.
Pressimus: "Pressimus is the ultimate social live-publishing, storytelling, and live-blogging platform, combining the ability to search for and find news and content being shared around the world live, with the ability to reference, use and share this content in your own stories that you create and publish on Pressimus."
Scratch: "With Scratch you profit from many micro opportunities. … eliminates traditional processing fees to maximize profit, finally making micro-payments profitable."
CrowdT: "Crowdt is a portal/ecommerce site dedicated to the crowdfunding of Tshirts as well as other outerwear. Design High Quality Screen Printed Tees.Zero Risk.Zero Upfront Cost. "
NGENSMOKE: "Then next generation of social vaping.  NGEN SMOKE LLC is a 2-partner entrepreneurial start-up consisting of Ryan Eng, Chief Executive Officer, and Eric Wong, Chief Marketing Officer. We are a Vaping Technologies company focusing on bringing revolutionary Vape products to the world."
Josh Software:  "Driven by enthusiasm and passion, Josh is India's leading company in building innovative web applications working exclusively in Ruby On Rails since 2007."
Arcade City: "A ride sharing company that is run by its divers."
Biome: "THE WORLD'S FIRST SELF-CONTAINED, AUTOMATED, LIVING WALL." Essentially you can place plants in unique places all over your office or home.
Electifi: "Electifi is the only platform engineered to empower regular people to hold politicians accountable. Other apps allow their users to "sound off" by creating petitions that go absolutely nowhere, reinforcing a cycle of voter apathy and powerlessness. Electifi is different because it understands how the political system really works — and how voters can hack it."
Confident Cannabis: "The World's First Technology Solution To Bring Transparency And Consistency To Legal Cannabis Through Data And Insights."
Movidiam: "Movidiam is a professional creative network and project management application that enables brands, agencies and filmmakers to connect, collaborate and create remarkable films."
Pint Pass: "PintPass is the FREE mobile app that brings your favorite breweries to your fingertips. Find out what's on tap at your favorite brewery, get directions to the nearest local brewery, and even send a beer to a friend through our Text A Beer feature. Become a PintPass member to receive exclusive discounts and promotions at local breweries and restaurants."
Photo attribution: Amodeo Photography 
About the author: Will Long is the Marketing Manager of Follow My Vote.

Subscribe To The Blog