The State Of Entrepreneurship In Blacksburg, VA
On December 17th,  James Creekmore, Creekmore Law Firm PC hosted and led an Entrepreneurial Ecosystem Symposium as an event for the Montgomery County Chamber of Commerce. The symposium was held in downtown Blacksburg, VA, at the Lyric Theater with the purpose of discussing the state of entrepreneurship in Blacksburg and what steps can be taken to improve the startup environment in the town. The event consisted of a presentation given by James Creekmore followed by a panel discussion with local entrepreneurs, CEOs, and business leaders.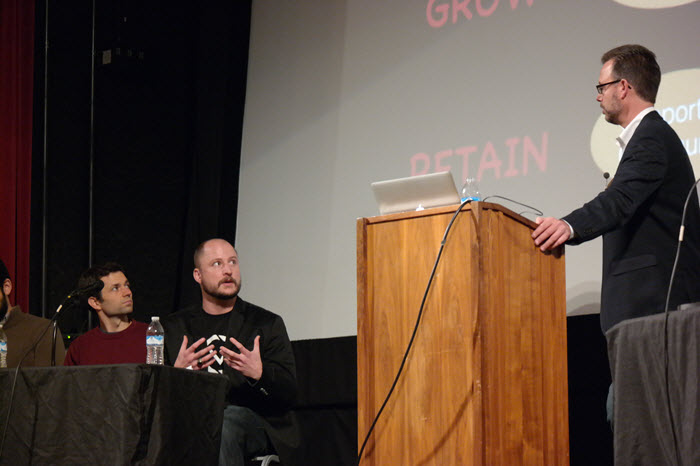 Follow My Vote CEO, Adam Ernest was asked to be on the panel. Ernest's main contributions were related to ideas for aggregating local entrepreneurs and making it easier to collaborate. In essence, shared value should be created. In his final statement on what should be done to entice entrepreneurship, Ernest said taxes are an issue. Currently one of the hardest things to swallow for new businesses is payroll taxes.  If we want to see more startups in our area and desire to improve the state of entrepreneurship, the tax burdens need to be reduced for startups and local small businesses.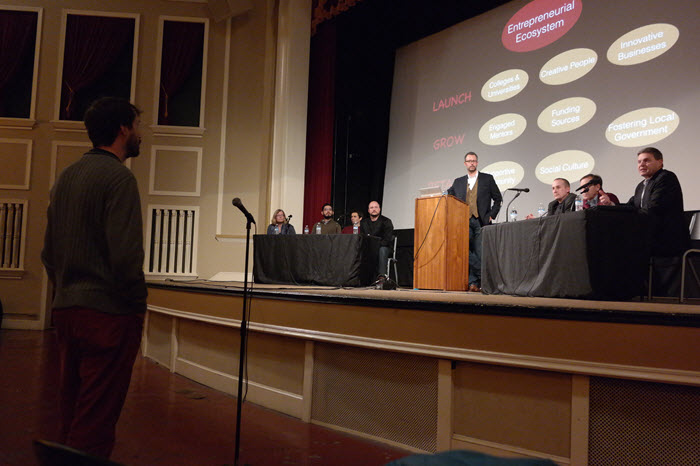 The event was a great success. The room wasn't packed, but the ideas shared and discussion held were fantastic. It was just what this community needed. The panel discussed what is necessary from the community to retain and grow startups that want to stay in Montgomery County.  Questions were asked about funding for startups. For example: How does our area compete with larger cities known as hubs of entrepreneurship? The panelist also discussed how to attract certain demographics and ways to make the area more inviting on a cultural and lifestyle level. Progress was made and this should excite everyone in the area. The team members of Follow My Vote are happy to be a part of this community and we are excited to help the community become better and more inviting. We look forward to more events like this.
The members of the panel was as follows:
Adam Ernest, Co-founder and CEO of Follow My Vote
Adam Donato, CEO of Card Isle
Alexander Obenauer, Co-founder and CEO of Mindsense
Kelly Queijo, CEO of Smart College Visit and Founder of blacksburglodging.com
Mike Abbott, Managing Director and Owner at Cambrian Design and Development LLC
Doug Juanarena, VP & Head of Blacksburg Operations at Rackspace Hosting
Jeff Mitchell, Attorney at the Mitchell Law Firm
Moderator: James Creekmore of Creekmore Law Firm PC
Check out our Facebook album to see all the pictures we took of the symposium.
Additional thanks to iQ Cleaning for their services and commitment to small business entrepreneurship.