What We Learned At The Brennan Center For Justice Event: America's Voting Technology Crisis
On Thursday, September 17th, we attended the Brennan Center for Justice event: America's Voting Technology Crisis: Preparing for 2016 and Beyond. With the recent release of the report put out by the Brennan Center for Justice appropriately called America's Voting Machines at Risk, it has become apparent that we need to talk about outdated voting machines and the future of voting in America.
The Event
The event consisted of lunch and a panel discussion about challenges with current voting machines. Several experts were in attendance to give their opinions on current risks, and possible solutions.  The experts in attendance were:
Pam Fessler, the moderator (correspondent, NPR National Desk)
Edgardo Cortes (Commissioner of Elections, Virginia Department of Elections)
Neal Kelley (Registrar of Voters, Orange County, California)
Doug Lewis (Former Executive Director, Election Center)
Lawrence Norden (​Deputy Director of the Democracy Program, Brennan Center for Justice)
Christopher Famighetti (Voting Rights Researcher, Brennan Center for Justice)
The recently released Brennan Center for Justice report exposed how outdated and incompetent voting machines are, all over the country.  With this in mind, we believe that we are actively building the only long-term solution to address the pending crisis (an end-to-end verifiable online voting system) and attended the event with high hopes that the experts and attendees would be willing to have a productive discussion about online voting.
Discussing the WinVote Voting Machines
One of the main topics of discussion surrounded the fact that the state of Virginia has been using easily hackable WinVote electronic voting machines for several election cycles and only recently decertified them statewide. It was only once the security vulnerabilities were detected that the machines became decertified, alluding to the need to improve the voting system certification process. Someone from the crowd then asked why we don't go back to simply using paper ballots and nothing else. Edgardo Cortes responded saying paper ballots are not scalable or cheap.
Follow My Vote Speaks Up
When it came time for questions, Nathan Hourt, Follow My Vote CTO, introduced himself and Follow My Vote. He informed the panelists that we are developing an end-to-end verifiable online voting system to address security vulnerabilities, as well as scale-ability and verifiability issues, with current voting machines. Being that we are developing the technology that has the potential to solve this crisis, Nathan then posed the question:
What is being done legislatively to allow for online voting?
Lawrence Norden was the first to respond. He said that the technology isn't there yet, as far as he is aware. He continued, saying that until the tech is demonstrated, legislators won't spend time on this issue.
Quite quickly, Doug Lewis grabbed the mic and followed up saying – and the second part of that answer is that it is a political issue. People who are currently in office right now were elected by the systems that are currently in place today. If we were to introduce new types of voting systems, it has the potential to jeopardize their ability to get re-elected.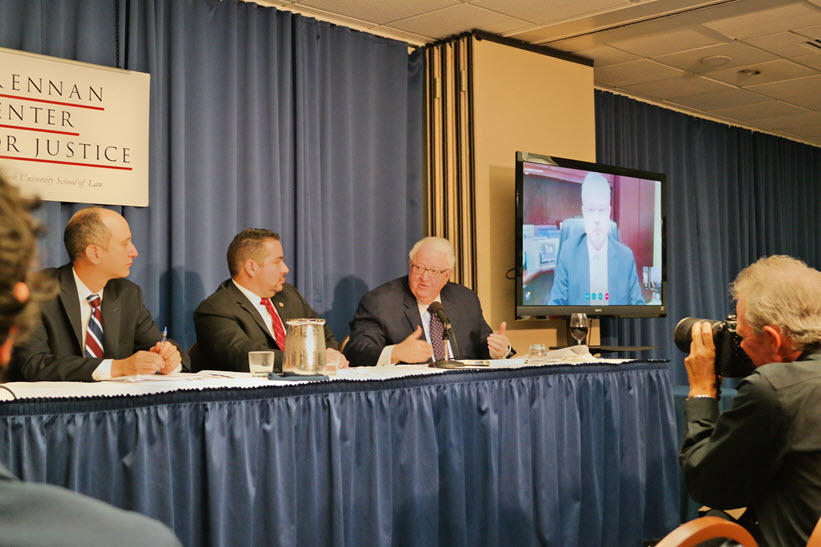 Did you know that there are 79 members of the United States Congress that have been in office for at least 20 years? And a total of 227 members of Congress have served for over 12 years? These are the people Doug was talking about. Both Republicans and Democrats care about getting re-elected and an honest online voting system could mess with their system. They can't risk that.
The moderator then deflected to Neal Kelley and asked if he has gotten any demand for online voting in California, as he is the Registrar of Voters for Orange County, California (which is the 3rd largest county in the state and the 6th largest county in the U.S.). He said no, he had not received any requests and that he would pass on the question altogether. The only other elected official on the panel, Edgardo Cortes – Commissioner of Elections in Virginia, also chose to pass on the question.
The fact is that everyone in the voting machine industry wants to make more sales. And the best way to do that is pushing for new and updated voting machines via government officials and getting the public fired up about the issue at hand, which begs the question: what is the real reason for bringing this panel to the people? why now?
If people can vote from the comfort of their own home, on their own device, it virtually eliminates the current voting machine market. This industry, which is a multi-billion dollar industry, then becomes obsolete. Voting machines are meant to be replaced every 10 to 12 years, which was confirmed by the panel. People at home already update their devices regularly, even several times a year. People don't wait 10 years to update their phone or computer software.
This is why we suggest that we allow citizens to use their own devices to vote. Doing this will drastically reduce and may even eliminate the need for electronic voting machines and paper ballots. Systems like Follow My Vote's voting platform allows people to securely vote from their own device, which is likely to be less than a year or two old.
We have options. We can choose to use new cost effective technology and utilize online voting or we can buy more voting machines with money our government doesn't have and expect another event just like this in 10 years. Let's call it America's Voting Technology Crisis: Preparing for 2026 and Beyond.
On another note, several members of Verified Voting participated in the creation of the Brennan Center's Voting Machine's at Risk Report. Pam Smith, Executive Director, Warren Stewart, Communications Director, and Susan Greenhalgh, Elections Specialist all contributed to the report. We thought this was interesting due to the fact Verified Voting is against online voting. They currently produce content that attempts to discredit the security and accuracy of online voting systems. In hindsight, we now know why we got the answers and responses we did.
After we asked our question, a lawyer stood up and asked how long it will be before we have verifiable hardware. Doug Lewis responded with a joke saying – by then you'll have hair as white as mine! Everyone laughed. Then the lawyer said – "So, what you are saying is, we will never have verifiable elections in the U.S.?"
There was complete silence.
(Due to the nature of our system, users can verify their vote on different devices, thus making sure their vote is counted correctly and mitigating the need for verifiable hardware.)
If you believe online voting is the solution, join our movement today!
We are happy to report that the recording of this panel is now available and we have included it below. We ask our question at 1:01:55.
About the author: Will Long is the Marketing Manager of Follow My Vote.