Outdated Voting Machines Featured On NPR
NPR has featured an article on outdated voting machines in the US. But what does this mean for American voters? Essentially, outdated voting machines could cause some very real problems within America's presidential election next year.
The Brennan Center for Justice recently released a report on the status of current voting machines in the US. The results do not look good. A total of 43 states will use outdated voting machines in 2016 that are at least 10 years old. See this graphic created by NPR using the stats from the report.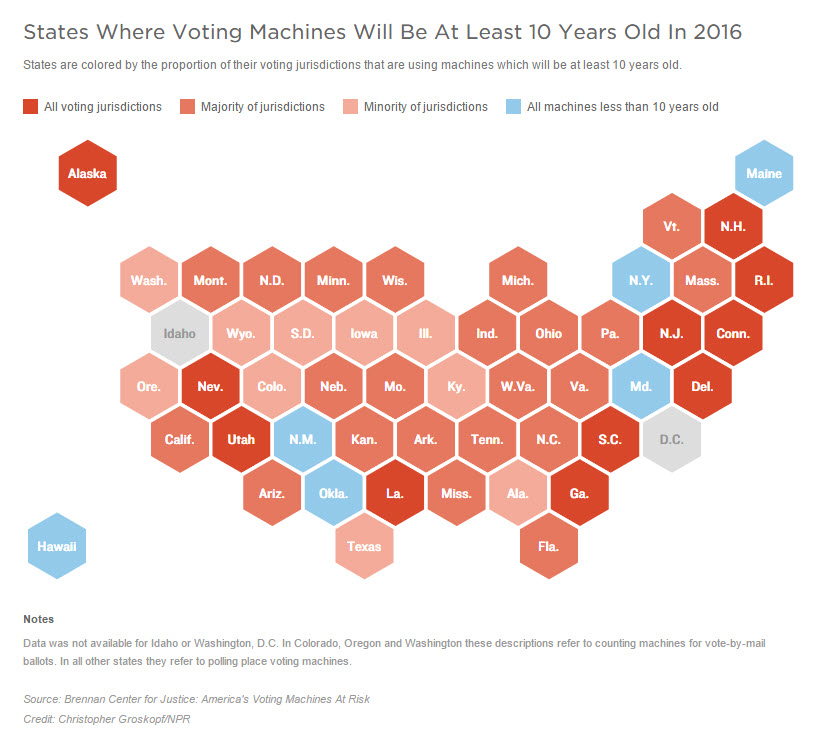 Outdated voting machines are a recipe for disaster. Breakdowns are becoming more of a regular occurrence. And good luck finding any spare parts for one of these antiquated machines.  Some of the machines still use memory cards that can only hold 250 megabytes of data, which is very low by today's standards.
Another troubling issue with these outdated voting machines is the cost of replacement. The reality is, these machines should all be replaced. But what happens when a a county can't afford to purchase new ones? They have to make due with the ones they have, however bad they may be. The NPR article quoted an election director about becoming an expert with cans of compressed air for the purpose of clearing debris and junk that could have jammed these outdated voting machines. What ends up happening is poor counties are getting stuck with the worst machines, while wealthier counties are able purchase new ones. This creates a very different voting experience depending on where you have to vote.
And you probably have heard of this one:
Problems such as vote flipping — that's when a voter presses one candidate's name only to have the opponent's name light up. It happens when the glue on touch screen machines gets old and erodes. Norden said everything's coming to a head at once because almost every state bought new computerized voting equipment right after the disputed 2000 election, using $2 billion in federal aid. But he says now there's neither the money nor the same sense of urgency.
In conclusion, we say this is a big indicator that we need online voting in America. Online Voting can be extremely cost effective, a participation enhancer, and a more transparent voting solution. But guess what? Online voting is illegal in many US states. This is why you should join our movement today. #OnlineVoting #Finally
[button href="https://followmyvote.com/support-us/" title="Title" target="blank" shape="square, rounded, pill" size="mini, small, regular, large, x-large, jumbo" block="true" circle="true" icon_only="true" info="popover, tooltip" info_place="top, right, bottom, left" info_trigger="hover, click, focus" info_content="This content will only show up if you have decided to show a popover."] Join The Movement! [/button]
Source: NPR
About the author: Will Long is the Marketing Manager of Follow My Vote.
[contentblock id=blog-subscribers]