Follow My Vote Featured On The Huffington Post!
Once again, Follow My Vote has been featured in the news! We are excited to announce that the Huffington Post has featured Follow My Vote in an article about blockchain technology.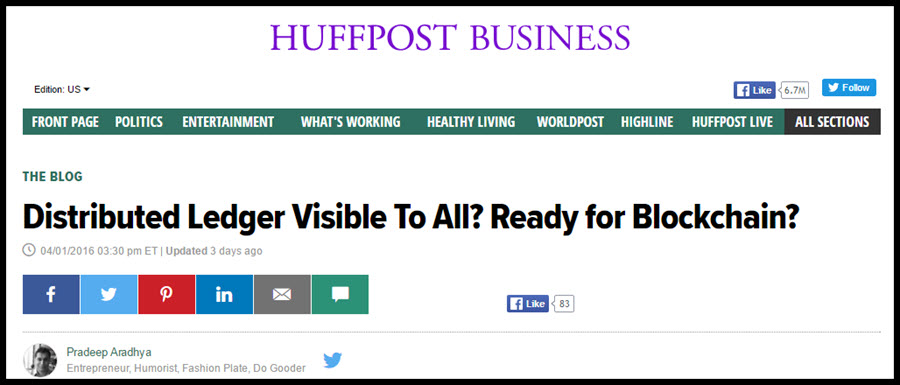 Huffington Post writer, Pradeep Aradhya wrote a fantastic and informative article in the business section on April 1st, 2016. The article covered the blockchain and some of the industry pioneers. Aradhya included an infographic about how a blockchain works, as well as some information on how current banks are trying to use these distributed databases.
The dedication and hard work of all the Follow My Vote team members is starting to pay off. We have an immense knowledge of the coding languages and security methods necessary to work with and build blockchains. We are now seeing the fruition of our effort, as well as recognition of well known publications.
Here is what Aradhya included about Follow My Vote in his Huffington Post article:
One of the most interesting applications of Blockchain is in the election business. FollowMyVote is running a parallel presidential election built on an online voting system that is expected to eliminate all illegitimacy in the vote counting process. Using a webcam and a government-issued ID, voters can remotely and securely log in and vote for their desired candidates. After they've selected their candidates, they can use their unique Voter ID to quite literally open the ballot box, locate their vote, and check that it is both present and correct. Additionally, voters can then watch the election progress in real time as votes are cast.

What's more, Follow My Vote's platform allows for an indecisive voter to return to the system and switch his or her votes at any time before the election deadline closes.
Aradhya also included our animated video, which helps explain how, and more importantly why we are building end to end verifiable (E2E V) blockchain voting software.
To see other articles Follow My Vote has been featured in, visit our Press Page.
Source: The Huffington Post 
About the author: Will Long is the Marketing Manager of Follow My Vote.
[contentblock id=blog-subscribers]