Success Is An Understatement: Follow My Vote & Liberland At Web Summit 2015
After the excitement of getting accepted into the Alpha Program at Web Summit and preparing eagerly for our debut to the world, we can say Web Summit 2015 has passed but will never be forgotten. We learned a great deal, met some fantastic people, and wore Guy Fawkes masks to celebrate the 5th of November. Here are the big takeaways from #WebSummit2015:
1. President of Liberland, Vít Jedlička announced that Follow My Vote will serve as the beta voting system for the newly established Micro-nation.  But why was the President of Liberland at Web Summit? To put it simply, Vít was our guest of honor. The Free Republic of Liberland is located next to the Danube River between Croatia and Serbia. Read more about Liberland.
"Liberland aims to be the front-runner for all technological improvements that make citizens lives easier. That is why we chose to be the first users of Follow My Vote."

-Vít Jedlička, President of Liberland
2. We exhibited our technology on the 5th of November, which played quite nicely into our plans. We donned Guy Fawkes masks and announced our 2016 Presidential parallel election. Perhaps your have heard the phrase "Remember, remember the 5th of November". This phrase refers to the act Guy Fawkes attempted and its role in the movie V for Vendetta. At our exhibition booth, we announced that, in one year's time, we will be holding an election in parallel to the United States Presidential Election.  The Guy Fawkes masks created a lot of buzz and brought droves of interested conference attendees over to our booth. Read our parallel election announcement.
3. We heard great talks from prominent leaders and captains of industry from all around the world, including one of the co-founders of Kickstarter, Yancey Strickler . It doesn't matter what your specialty is, there was a talk for you. We featured our favorite talks on social media with pictures. Make sure you follow us and see our posts.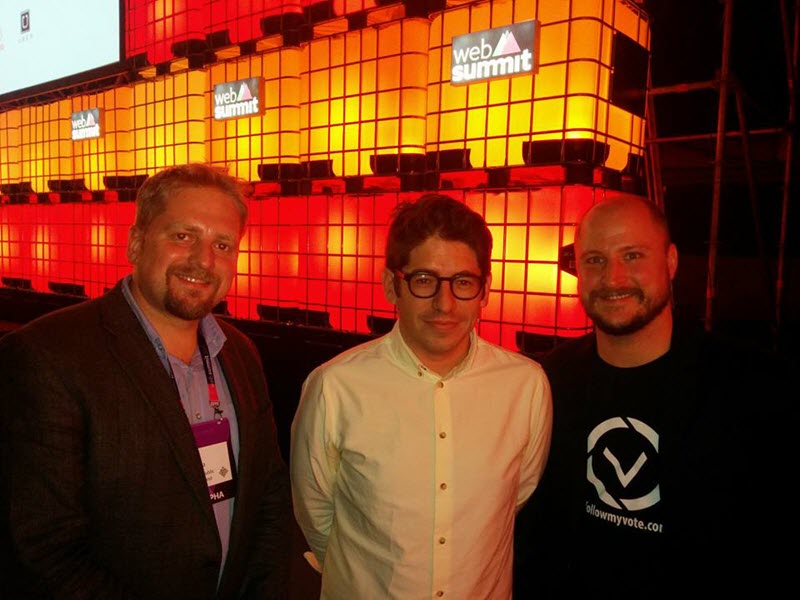 4. We got a huge amount of exposure, with thousands of people visiting our website throughout the week of the conference. The day we exhibited, we had the most visitors ever to our website. How cool is that!? So if your wondering if you should go to Web Summit next year, just know that if you play your cards right and prepare properly, you can get tons of exposure for your business. Tickets are already on sale for next year!
5. We launched our new animated explainer video!
We got some of our own footage as well! Check out the view of downtown Dublin and our exhibit at Web Summit:
Thanks to everyone who made Web Summit 2015 a fantastic event! Check our Facebook album for all the pictures from the event.
About the author: Will Long is the Marketing Manager of Follow My Vote.