What's In Store For Blockchain In 2017?
Blockchain technology is the backbone of Bitcoin. But since its inception in 2009, the technology has grown to support many use cases and projects around the world.
2017 will be a big year for blockchain. In this blog post, we cover the top areas of the blockchain industry and what we can expect for blockchain in 2017.
There are 7 Banks that want to go live with blockchain in 2017.

A recent CoinDesk article reveals that 7 major European banks are partnering on a new blockchain-based trade finance platform called the Digital Trade Chain (DTC).
They have a tentative plan to launch in Q3-Q4 of 2017.
Those backing the platform's development are looking to establish a secure place to manage open account trade transactions for both domestic and international commerce. DTC utilizes a permissioned ledger, with authorized parties allowed to submit transactions on the platform.

Open account trade transactions involve products being shipped before the actual payment is due, meaning that trust among the transaction's parties is imperative. With DTC, those plugged into the system will be able to track the progression of those transactions, from initiation to settlement.

Thus far, the banks involved – KBC, Deutsche Bank, HSBC, Natixis, Rabobank, Société Générale and UniCredit – have signed a memorandum of understanding that lays out the basic groundwork for future development. That said, the banks are looking to launch DTC sometime in 2017, with an eye to building support in markets like France, Germany and the UK.
Conferences involving blockchain in 2017
A conference that caught our eye recently is the MIT Technology Review Conference: The Business of Blockchain.
The event will be held at the MIT Media Lab on April 18, 2017. The purpose of the one-day conference is "to explore the opportunities and challenges associated with public digital ledgers, or blockchains."
Blockchains have the power to create entirely new kinds of businesses and more people are starting to realize this everyday.
Blockchain is still relatively new. The industry is still in its infancy. We can expect a variety of new use cases to be introduced in 2017.
Bitcoin in 2017
Bitcoin is the largest and most well know blockchain project. It is currently traded all around the world and more businesses are beginning to accept Bitcoin as a means of payment.
In addition to growth and adoption, Bitcoin will focus on security and scalability. The DAO hack demonstrated the need for advanced security protocols for all blockchain projects. Scalability is also an issue.  "Today the Bitcoin network is restricted to a sustained rate of 3.3 tps (7 tps theoretical) due to the bitcoin protocol restricting block sizes to 1MB. Scalability will remain the holy grail of blockchain technology."
Ethereum in 2017

Many people believe the public blockchain with the most attainable and impactful scalability roadmap is Ethereum.
Here are some of the Ethereum projects to look out for:
Infura is an enterprise-grade Ethereum-based blockchain infrastructure being used in IoT, and in conjunction with the public Ethereum blockchain and Inter Planetary File System (IPFS). Developers interface with Infura via Web3/RPC.

MetaMask is a bridge that allows you to visit the distributed web of tomorrow in your browser today. It allows you to run Ethereum dApps right in your browser without running a full Ethereum node.

BlockApps is an enterprise-grade Ethereum-based blockchain infrastructure solution used in banking, payments, insurance, supply chain and others. BlockApps is designed to provide a permissioned Ethereum environment which easily operates at scale, allowing applications to handle a high volume of transactions per second. Developers can build interfaces with their permissioned blockchain using a REST API.
Steemit in 2017
Steemit.com is the world's fastest growing decentralized social media platform. Steemit connects to a robust blockchain database called Steem. This blockchain database distributes rewards in cryptocurrency to the users who bring the best content (blogs, comments, videos etc.) to the Steemit site.
On January 17th, 2017 Steemit.com was featured on Forbes.com. Author, Roger Aitken covered the 2017 comprehensive roadmap for Steemit.com.
The big news surrounds the Steemit.com migration to Amazon Web Services, the world's largest hosting provider. Steemit has racked up over 120,000 registered users in around 6 months and they need to be able to handle more traffic as the platform grows.
Steemit Co-founder & CEO, Ned Scott is quoted several times throughout the article:
 "2017 will be our banner year and the community will see a ton of upgrades from now until the end of March. Migrating hosting to reputable third parties allows us to focus all of our time and attention on development of the site, software, and community – not on scaling or maintaining servers or hosting infrastructure."
Follow My Vote in 2017
Follow My Vote continues to pioneer end-to-end verifiable blockchain voting software in 2017. See our Github repo for updates on our software.
In 2016, we managed to get featured on Forbes.com and successfully integrated our stake-weighted voting software with the BitShares blockchain.
It's important to note that, when designing our stake-weighted voting system's architecture, we designed it in such a way to ensure that our blockchain voting software was portable from one blockchain to another. (contact us if you are interested in a custom blockchain voting solution)
2016 was filled with momentous achievements for Follow My Vote. Here you can see we reached out to and networked with some of the top technology leaders and politicians. (Gary Johnson & John McAfee featured)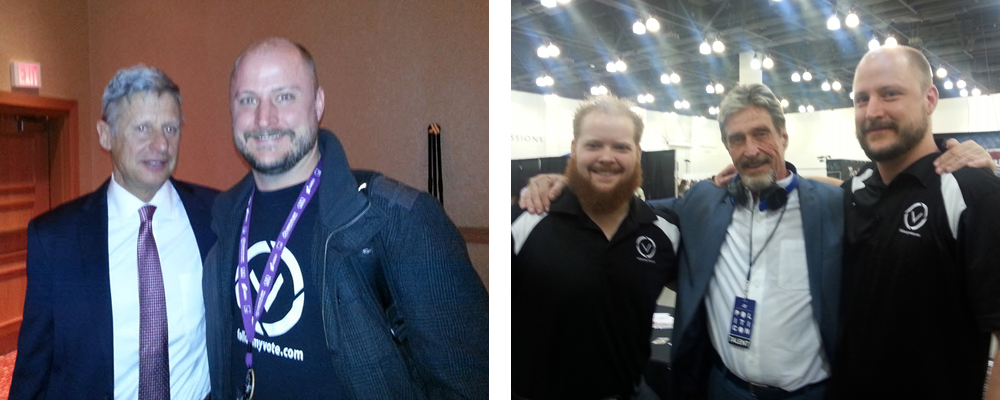 We anticipate that 2017 will be filled with many Follow My Vote software releases and partnerships, in an effort to bring end-to-end verifiable blockchain voting to the world.
Learn about our stake weighted blockchain voting software
Learn about our 1 person 1 vote blockchain voting software.
About the author: Will Long is the Marketing Manager of Follow My Vote.